We welcome these great designs from the Saint George School Santo Domingo, the Dominican Republic. The winning design (above) has been drawn by Daniela Figueroa age 14.
Daniela says: We all wish for peace because without it, we won't progress.
This second design has been created by Andrea Seraval
le age 15.                                                                           
A
ndrea says: We all wish for PEACE so we can LIVE free.
Gabriella Marquez age 14 has done this creative design.
Gabriella says:  We all wish for Peace because Peace gives us wings and it frees our world.
The fourth design has been drawn by Maiah Welle age 15.
Maiah says: We wish for peace because we want to stop war.
A big thank you to all students and staff involved in the school's art competition for the 2016 Schools' International Peace Quilt project. Many thanks to Victoria Yoh, Visual Arts for coordinating the project in the school. Additional thank you to Valinda Vasquez, Director of International Projects for her valued support.

"Where the Spirit does not work with the hand, there is no Art" -Leonardo Da Vinci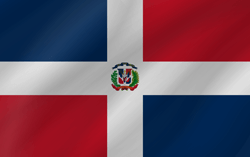 Dominican Republic Flag Meaning:
The flag of the Dominican Republic was designed by founding father Juan Pablo Duarte, and adopted in 1844. It is centered with a white cross that extends to the edges and divides the flag into four rectangles. The colour blue is for liberty, red for the blood of heroes, and white for salvation. A small coat of arms rests at the centre of the flag.
Copyright © 2018 Schools' International Peace Quilt, All rights reserved.