"Saint George School proudly presents the art work of  Mary Liang to be part of the Peace Quilt for the Summer Olympics 2012 in London.
We would like to extend our most sincere gratitude for allowing our students to be part of such an important event and message to all the world. We firmly believe that these types of educational projects also serve a  lesson in civics and the need for Peace during times of conflict throughout the world. I would like to thank Mr. Mauricio Benavides, Head of the Art Department for all the  guidance he provided to the students during this project.
Once again, thank you for considering Saint George as a representative of the Dominican Republic and the values we share.
Respectfully,
Valinda Valdez, Director of International Projects/School Development"
Well done to Mary whose quote reads: "We all wish for peace because it is a state of mind in which we can all accept each other as equal."
A huge thank you to all the students who took part and to Valinda Valdez for making it all possible.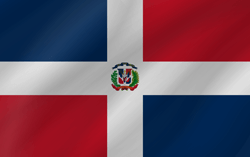 Dominican Republic Flag Meaning:
The flag of the Dominican Republic was designed by founding father Juan Pablo Duarte, and adopted in 1844. It is centered with a white cross that extends to the edges and divides the flag into four rectangles. The colour blue is for liberty, red for the blood of heroes, and white for salvation. A small coat of arms rests at the centre of the flag.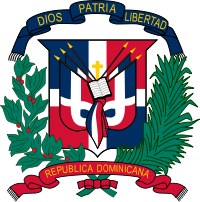 The Dominican Republic coat of arms features a shield in quartered colours of the flag, with a laurel branch to the left and a palm frond to the right. The blue ribbon above the shield displays the national motto: Dios, Patria, Libertad (God, Fatherland, Liberty). Below the shield, the words República Dominicana appear on a red ribbon. In the centre of the shield, flanked by six spears, is a Bible with a small golden cross above it. Popular belief claims that the pages are opened to the Gospel of John 8:32, which reads, "Y la verdad os hará libre." (And the truth shall make you free.)
Copyright © 2010–2018 Schools' International Peace Quilt, All rights reserved.